Polka Dots & Pixie Dust Blog
Whether you're heading to the Disney Parks for a run ( or walk) or tackling a Virtual race in your own neighborhood, we're sharing our Disney run shirts to help add a little more Disney to your day.  SHOP OUR ENTIRE RUNDISNEY COLLECTION runDisney Inspired Shirts  From cute castles to Disney characters and our favorite inspiring Disney Quotes here are all our designs so far in our runDisney collection.  runDisney Every Mile is Magic Want to celebrate your runDisney accomplisments in style? Featuring a castle, mileage from each race and the words "every mile is magic". SHOP EVERY MILE IS MAGIC...
---
• Aulani • disney Aulani • disney beach • disney summer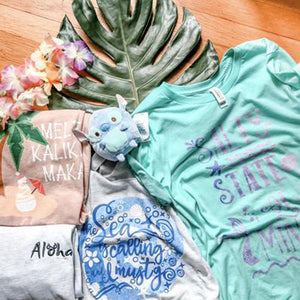 A Vacation to Hawaii is always a treat. Add in a stay at Disney's Aulani Resort and you'll be set for life! Grab your best Hawaiian gear, with a little bit of Mickey to make sure you're dressed for the islands. Whether you're road tripping on Oahu in search of the original Dole Whip or lounging at the Disney Aulani Resort, here are all our favorite Disney shirts just perfect for an island getaway! If you're looking for Disney Aulani Shirts, then you can find them here. Inspired by our favorite Hawaiian treat, you can grab style for the islands. ...
---
Order Early As the holiday season approaches, we'd like to share some information regarding shipping, products, discounts and options that can help inform your purchases with our shop.  Shipping Delays We cannot guarantee delivery by a certain date for any order, regardless of shipping selection or price paid for shipping. All carriers are dealing with shipping delays across the country. Please allow at least 2-3 weeks to receive your order. We have little if any control over items after they leave our printer. Please reach out to your local post office if you are waiting on an item that has not...
---
Check out our lineup of Christmas Shirts to help spruce up your holiday season! As Christmas is our favorite time of year, we go a little crazy when designing things for our most favorite holiday! Check out the collection.  Disney Baking Christmas Shirt Complete with Mickey Gingerbread and everything you need to whip up your favorite batch of cookies, cakes, and pies, this Disney inspired designs comes from Nightmare Befor Christmas. Making Chrismtas, making Christmas, la, la, la.... you know the song.  Shop Baking Christmas Baymax Christmas Shirt with Furry Baby Ba La La Fa la la la la...la la...
---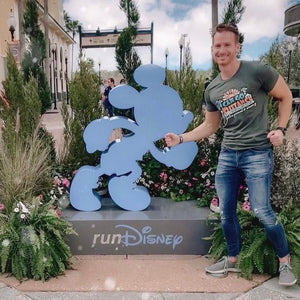 Looking for Disney Shirts for Men? Or Disney Dad Gifts? Or a Disney Shirt that your Disney Guy will wear? We're doing a bit of roundup of the designs in our shop. Of course, you can see each Disney Inspired Design Collection on our Disney Designs Collection page, but why not just scroll? And see if anything strikes your fancy! Note all shirts are Unisex, so take a look at each listing for size details.    Jungle Books Bare Necessities Beer Shirt Look for those beer necessities! And chances are you can find them in each World Showcase Country during...